The Quotation for Computer Aided Manufacturing (QCam) application has been developed with manufaturers in mind. The solution was initially started in 2003 when it began as a quotation system. Since that time, for the next 10 years, QCam has evolved into a full CRM solution. It enables manufacturers to keep better track of progress of production. Services, Operations, Customer, Materials are efficiently utilized in order to provide a a quotation to the client that is not only accurate, but professional. This is one of the products we offer our clients in the manufacturing industry.
Key Features
QCam comes shipped with the following functionality: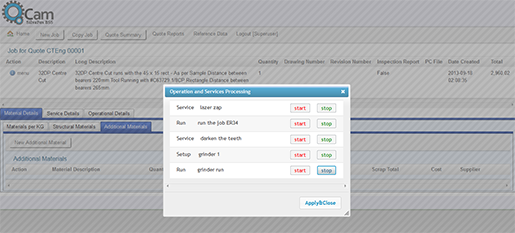 Quote Intuitive Quotation creation for a customer
Invoice Intu- itive Invoice generation from the accepted customer quotation
Reference Data QCam stores the reference data like customers, suppliers, materials and services for quick access to past jobs and reports.
Builder A builder comes prepackaged in QCam to allow the engineer/manufactorer to shuffle build processes around and start or stop them. From this builder extensive reports can be drawn to provide detailed information about the build processes.
Reports Various reports from the quotation form to the delivery note and job card for operations and materials are easily generated
Auditing To allow superuser strict control, QCam stores all internal operations in an audit database. This allows users with superuser access the ability to fault find on the system, or, to keep strict control over who performed certain fuctions on the system.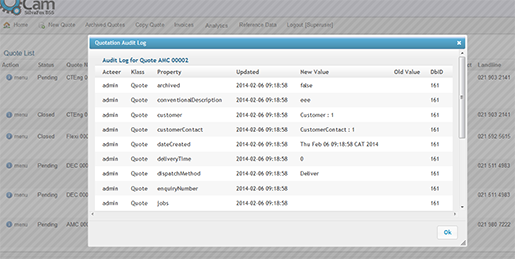 Security Spring Security, a world renowned standard for implementing security for web enabled applications is utilised, to provide the best security for your sensitive data.
Alerts Various system alerts exist, in order to present notifications of important milestones or decisions within QCam